for Property Owners
Tulip Real Estate's core business is the planning, management, and consulting of female-only share houses.
For those who are considering managing,
and operating a share house on their own, there are various know-how to maintain a healthy community, not just facilities such as buildings.
For owners who manage and operate share houses by themselves, Tulip Real Estate has cultivated know-how (including kits for thoroughly enforcing contracts and rules) in managing and operating share houses for 10 years. We provide.
Those who are considering outsourcing everything from start-up to management and operation
In order to start a share house, you have to prepare equipment other than renovation.

Ex.) A house that can accommodate 12 people: Renovation cost…It varies greatly depending on the condition and concept.
Equipment fee…1,500,000~
In addition, a consulting fee will be charged. Please contact us for detailed pricing.
Renovation example (U.Y-so, Toshima Ward)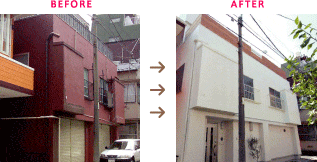 Renovate an old apartment that can only build about 4 one-room rooms into a share house!
→Twice the profit of a condominium! Moreover…
Cheaper construction costs
Reduced risk of vacancies
Almost no remodeling costs after moving out
Tulip's Specialty
Women only! No entry for men. Residents have a different sense of security.
Residents are women in their 20s and 30s. Very wholesome.
We have strict no smoking rules on the premises.
In Japan, "share house" and "guest house" are almost synonymous, but in order to differentiate ourselves from other companies and to strengthen the meaning of "sharing a house", we decided to use the word "share house". We have been using it since the beginning, ahead of the industry. Recently, the term "share house" has spread throughout the industry.
Please feel free to contact us first.