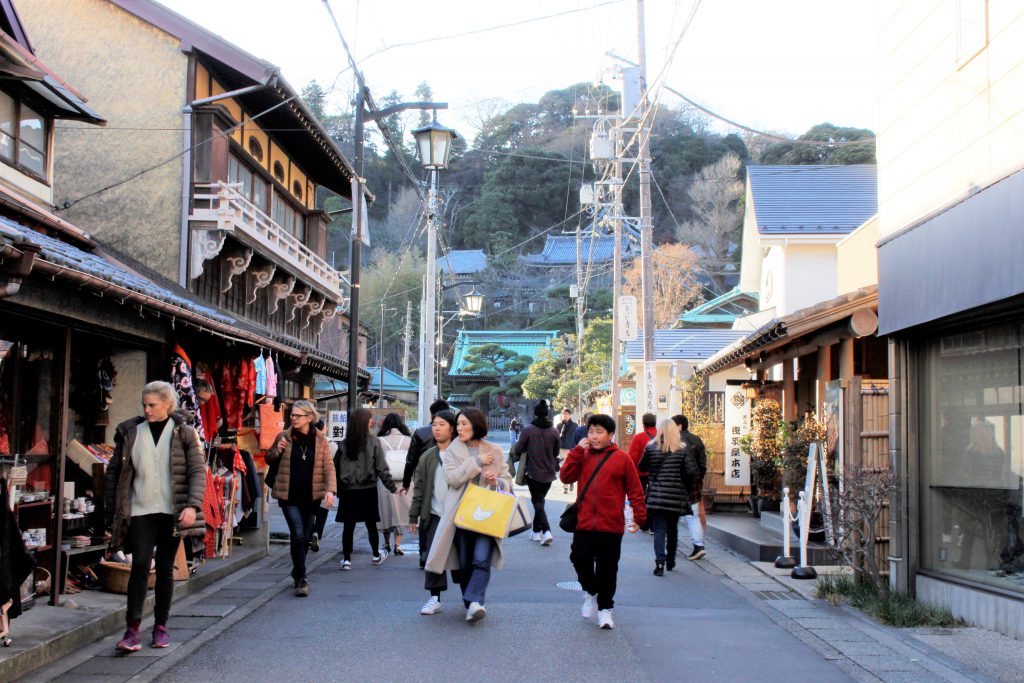 So you've been up and down the Skytree, shopped your heart out in Shinjuku, have an album of photos from the Shinjuku Gyoen in all four seasons, and are itching to discover a different side of Japan… buttttt hard-pressed for time. May we suggest a day-trip to the neighboring Kanagawa Prefecture with its gorgeous coastlines and unique slice of history? If so, read on for the low down to an easy-breezy inexpensive day trip to to the beautiful island town of Enoshima and the historic temple city of Kamakura!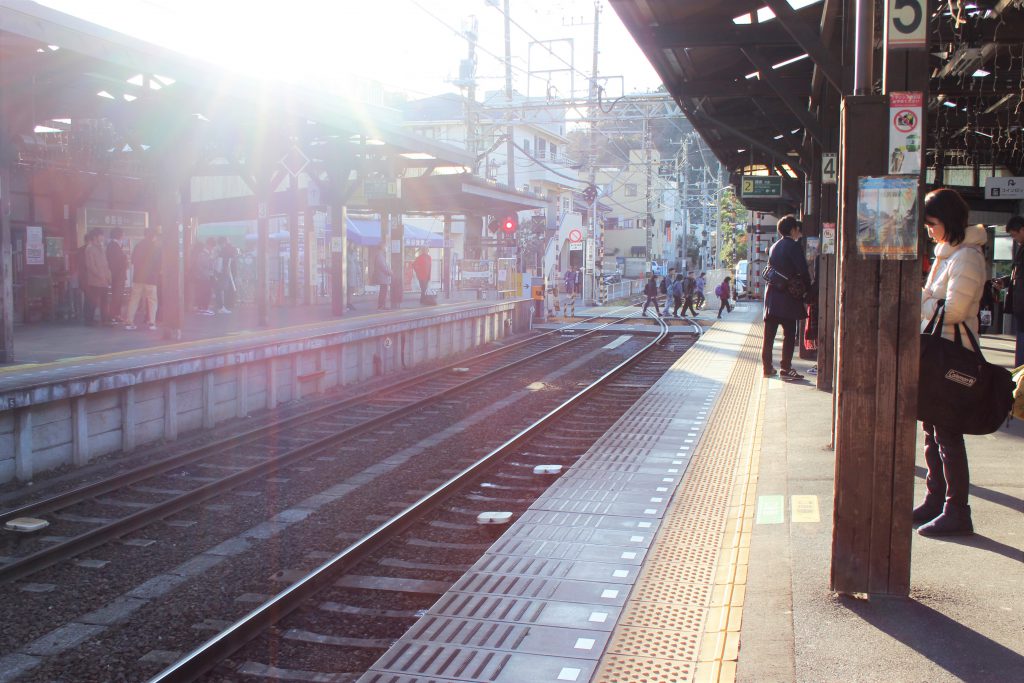 1. Enoshima-Kamakura Free Pass
First things first, transport. We highly recommend purchasing the Odakyu Line Enoshima-Kamakura Free Pass. The one-day pass includes one round trip from your departure station to Fuijisawa, unlimited hop-on and offs on the Enoden Line between Fujisawa all the way to Kamakura, and discounts to a few attractions. The pass is available at the Odakyu Sightseeing Service Center in Shinjuku or at any Odakyu Line station ticket machines.
Enoshima-Kamakura Free Pass 江の島・鎌倉フリーパス
Price: 1,470 yen (From Shinjuku Station)
See here for a guide on how to buy from the ticket machines.
2. Katase Nishihama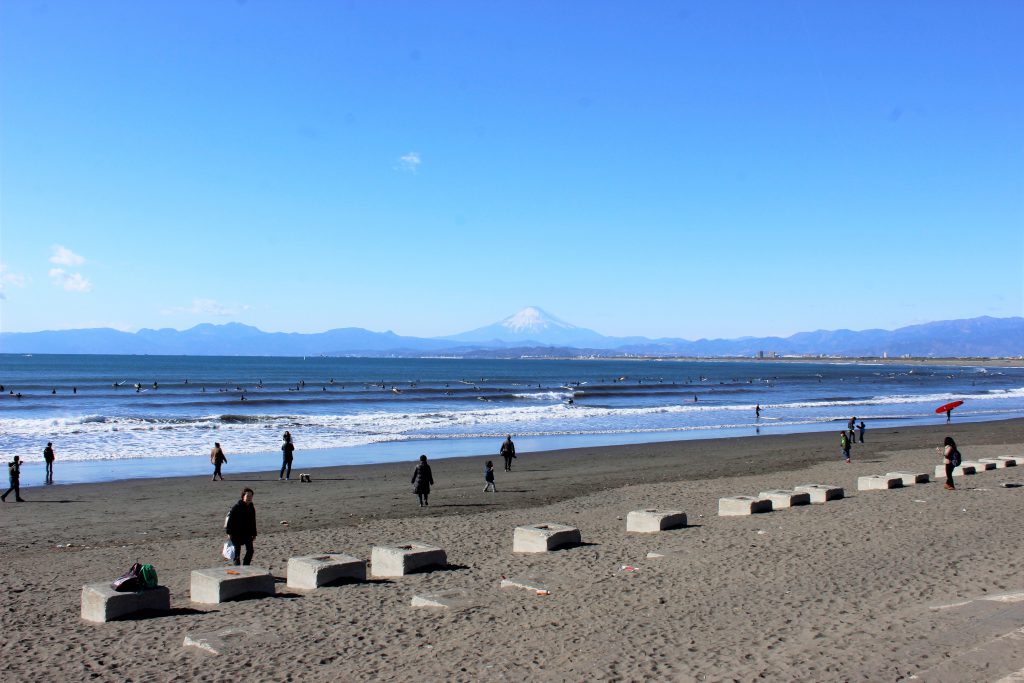 Hop off at Katase-Enoshima Station and make your way over to the Katase Nishihama Beach for some of the closest beaches to Tokyo and an amazing, unobstructed view of Mount Fuji! Popular with surfers, the beach is also the scene of a number of parties in the warm summer months. From there, take a 20min walk across the ocean via the connecting bridge to Enoshima Island.
Katase Nishihama Beach 片瀬西浜
3 Chome Katasekaigan, Fujisawa, Kanagawa Prefecture 251-0035
〒251-0035 神奈川県藤沢市片瀬海岸3丁目
3. Enoshima Jinja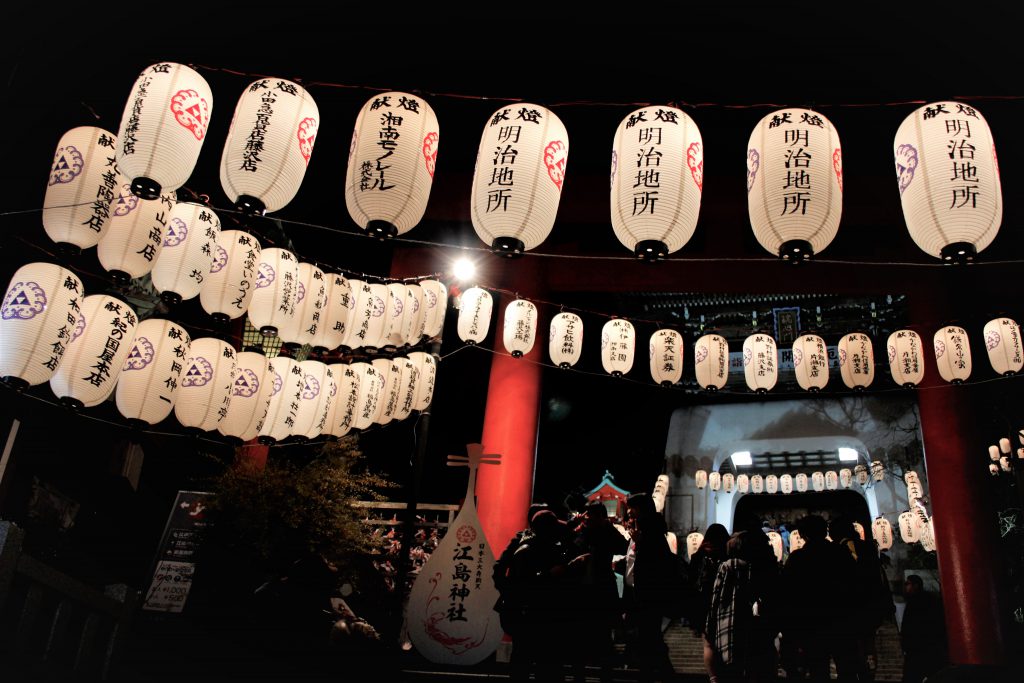 Sitting on Enoshima Island is the Enoshima Jinja, one of the nation's Three Great Shrines dedicated to the Benzaiten (弁才天) goddess of art and fortune. Legend has it that this particular Benten shared a love story with a five-headed dragon, hence the many dragons decked out on the grounds. The Enoshima Jinja is also home to three goddess and their respective shrines – Hetsunomiya, Nakatsunomiya, and Okutsunomiya (from lowest to highest). Psst! Tulip Tip: the stairs aren't as daunting as they seem! Stretch your legs and save some cash by skipping the escalator and hiking up to the top. It's a charming 15-20 min walk from the bottom shrine with lovely views of the island town and its coasts.
Enoshima Jinja 江ノ島神社
2-3-8 Enoshima, Fujisawa City, Kanagawa 251-0036
〒251-0036 神奈川県藤沢市江の島2丁目3番8号
4. Lovers' Hill / Ryuren Bell of Love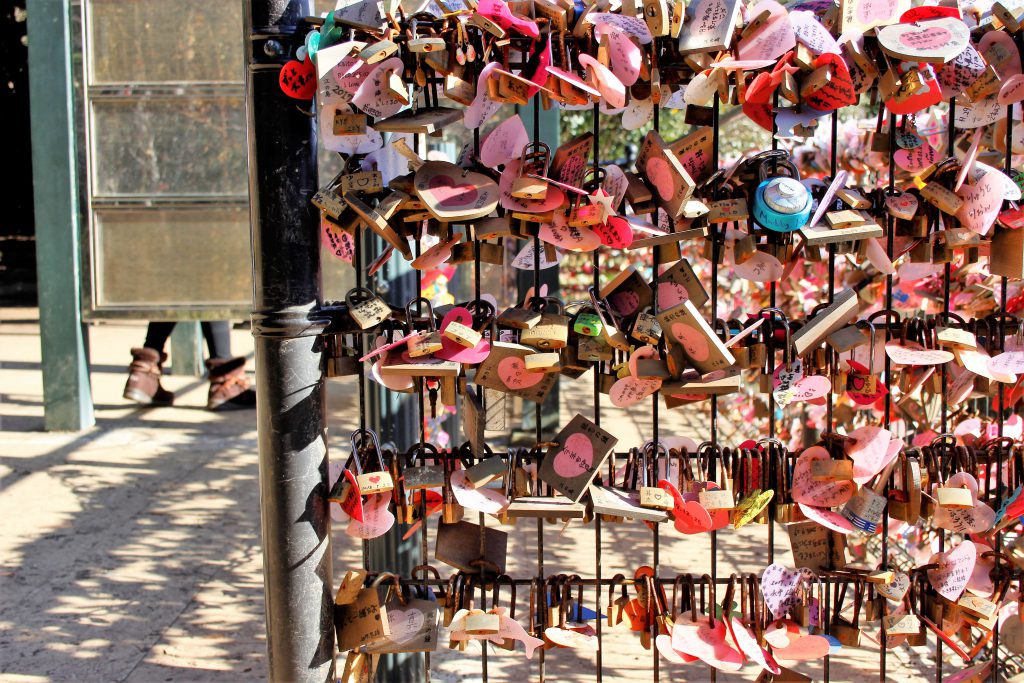 Taking the trip with your significant other? Follow the signs off the main path and make your way over to the Lovers' Bell. Ring the bell, make a wish, and attach your lock onto the fence with the many others to enjoy eternal love. Purchase a lock at the shops on the way to the entrance, or opt to bring your own! Singles, feel free to skip this attraction and head on over to the Iwaya Caves and Chigogafuchi Abyss.
Lover's Hill / Ryuren Bell of Love 恋人の丘「龍恋の鐘」
2-5 Enoshima Ryunogaoka Natural Forest, Fujisawa City, Kanagawa 251-0036
〒251-0036 神奈川県藤沢市江の島2-5江の島龍野ヶ岡自然の森内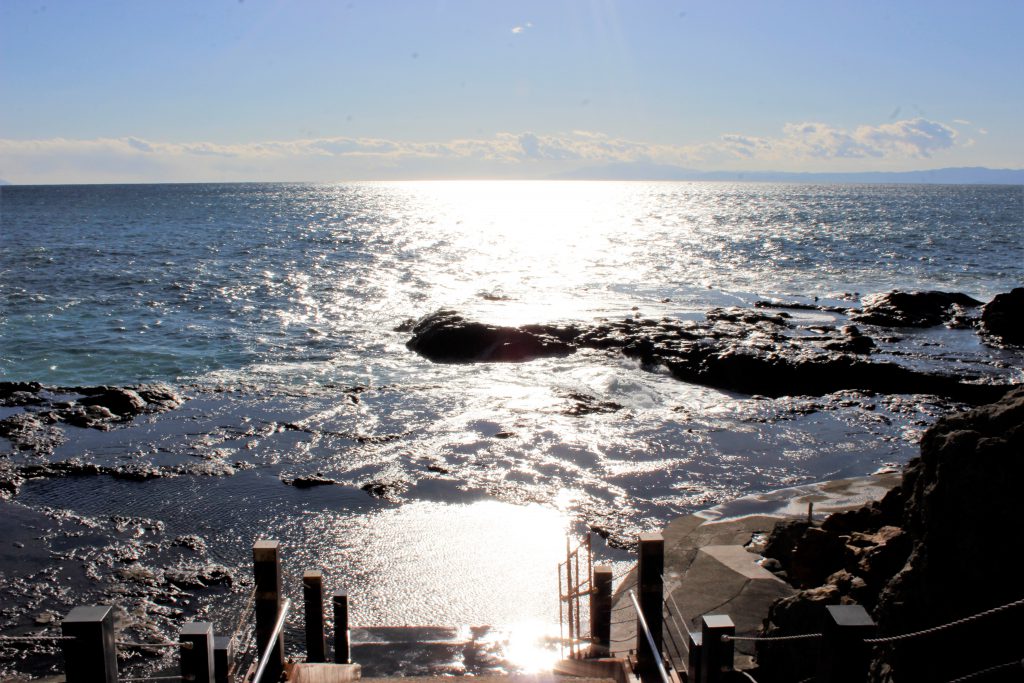 5. Iwaya Caves and Chigogafuchi Abyss
Nestled on the wesern end of Enoshima Island are the Iwaya Caves and the Chigogafuchi Abyss. Previous buddhist monk training ground in the Nara era, the Iwaya Caves consists of two natural caves-turned-shrines housing relics and statues from Enoshima's past. While the caves are not much to write home about, the walkway to the caves overlooks the Chicgogafuchi Abyss, boasting gorgeous coastal views of crashing waves alongside a breathtaking view of Mt. Fuji. Heads up, the area is subject to very strong winds so we highly suggest extra precaution when climbing up and down the boulders to avoid being blown away!
Chigogafuchi Abyss 稚児ヶ淵
2-5-2 Enoshima, Fujisawa City, Kanagawa 251-0036
〒251-0036 神奈川県 藤沢市 江の島 2丁目5番2号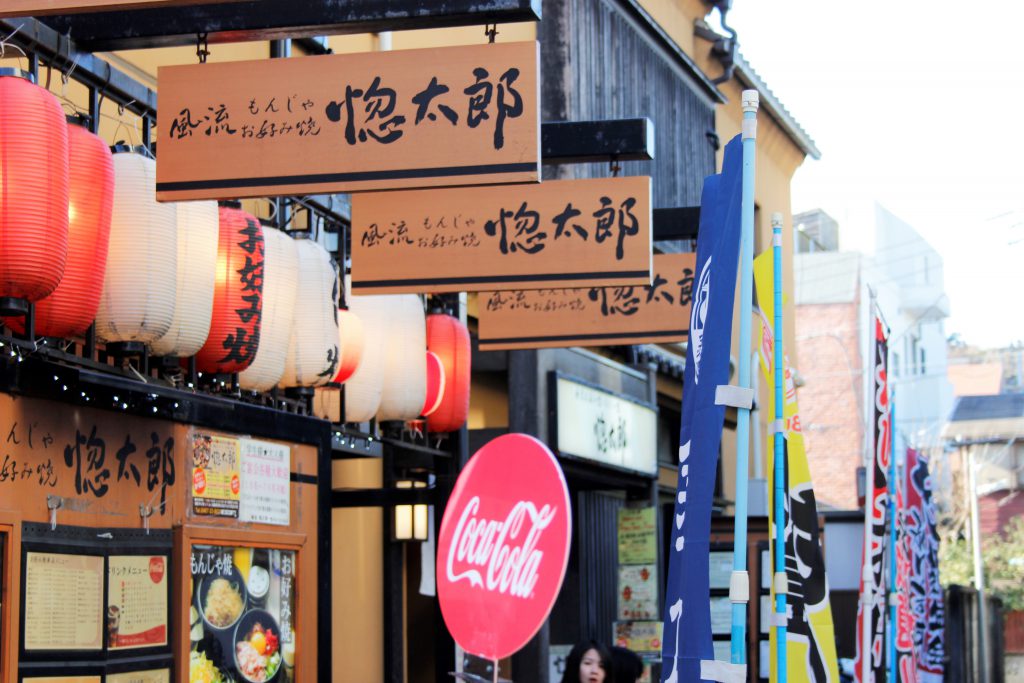 6. The Great Buddha of Kamakura / Kamakura Daibutsu
Next up on the itinerary is Kamakura, oozing of traditional architecture with its many Buddhist temples and Shinto shrines. And what's a visit to Kamakura without paying respects to the iconic Kamakura Daibutsu (Great Buddha)! A designated kokuhō 国宝 or National Treasure culture heritage site, this particular Daibutsu is vying for a spot on UNESCO'S list of World Heritage Sites, making it a must-see for culture-lovers. To get there from Enoshima Island, walk or hop on a bus to Enoshima Station, take the Enoden Line heading towards Kamakura to Hase Station, and follow the signs for Kōtoku-in.
Kamakura Daibutsu 鎌倉大仏
4-2-28 Hase, Kamakura, Kanagawa 248-0016
〒248-0016 神奈川県鎌倉市長谷4丁目2番28号
Price: 200 yen entry and an additional 20 yen to get inside the Daibutsu.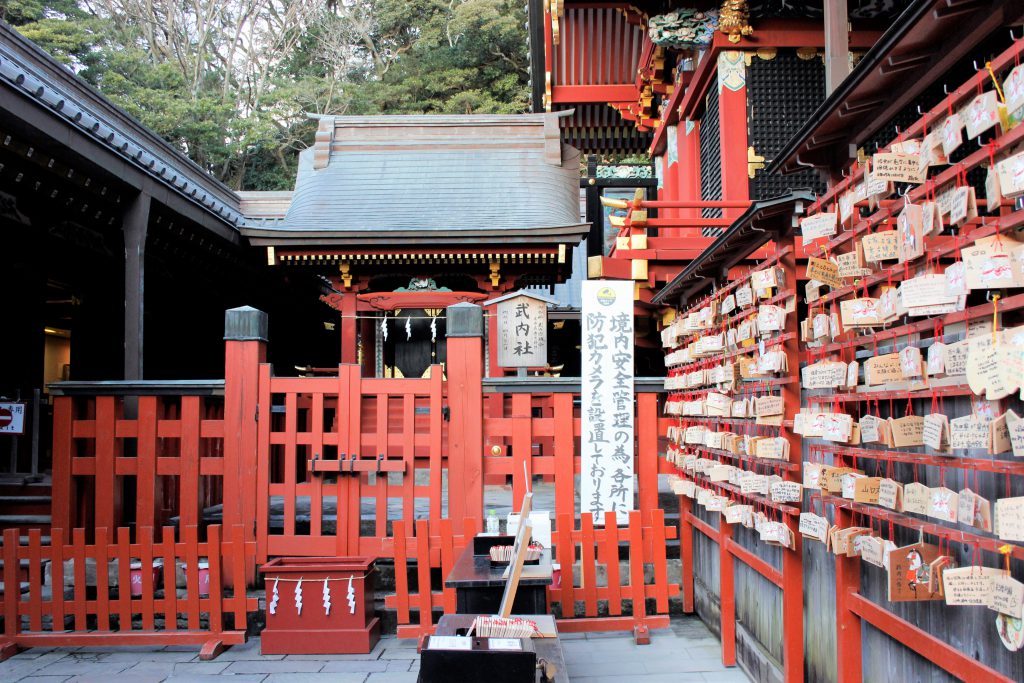 7. Komachi Street / Komachidori
Beginning from the round-about outside of Kamakura Station, and leading right up to the Tsurugaoka Hachimangū is the Komachidori Street. Legend has it that it began as an outdoor market held in front of the shrine. Today, more than 250 restaurants, cafes, and boutiques selling traditional gifts and sweets line the bustling street. It's the perfect place to do a spot of souvenir shopping enroute to our final destination at the Hachimangū!
Kamakura Komachidori 鎌倉 小町通り
Komachi, Kamakura, Kanagawa 248-0006
〒248-0006 神奈川県鎌倉市小町
8. Tsurugaoka Hachimangū
The most proninent of Kamakura's Shinto shrines, the Tsurugaoka Hachimangū is located both geographical and culturally in the city center.  After defeating rival Taira clan in 1180, Kamakura Shogunate founder Yoritomo Minamoto established Kamakura as the nation's defacto capital and built the shrine as a tribute the Hachiman (八幡神), Japanese god of war and archery. Today, the shrine houses two ponds representing rival clans Minamoto and Taira (Tiny Trivia: the Taira pond has four islands, as "four" holds the same pronunciation as "death" in Japanese), a peony garden, and a small museum. It's also among the nation's most popular shrines for hatsumode (初詣), with record breaking visitor numbers of over two million!
Tsurugaoka Hachimangū 鶴岡八幡宮
2-1-31 Yukinoshita, Kamakura, Kanagawa 248-8588
〒248-8588 神奈川県鎌倉市雪ノ下2-1-31
Not up for a day trip or a lengthy train ride?  Check out our Ultimate Nakano Guide for a low key yet fun-filled afternoon right in the heart of suburban Tokyo!
Follow us on social media!  🌷
Insta: @tokyotulip
FB: @tuliprealestate.co.ltd
Tulip real estate web site www.tulip-e.com
By: Lydia Hon