Zoshigaya, a humble hidden area, between the outspoken siblings Ikebukuro and Mejiro. It's humble, but special, especially for people who are interested in Japanese culture and history. Probably, having a daytrip in Tokyo in a quiet spot it is more recommended during the pandemic period too.
The most famous icon in Zoshigaya is the Kishimonji temple. It is known for worshipping a god of children, pregnancy and birth and surrounded with monumental Ginkgo trees which are about 700 years old. The second oldest ginkgo trees in Tokyo. They are impressively big! Recently, there is an anime called Saekano, how to raise a boring girlfriend. The story is in Zoshigaya area, and also one of the steepest slope in that area is showing on the background of this anime poster. It might be, Zoshigaya will be a more popular spot to visit, it is a potential spot with hidden gems and it is very convenient to live, since it is so close to Mejiro, Ikebukuro and Takadanobaba.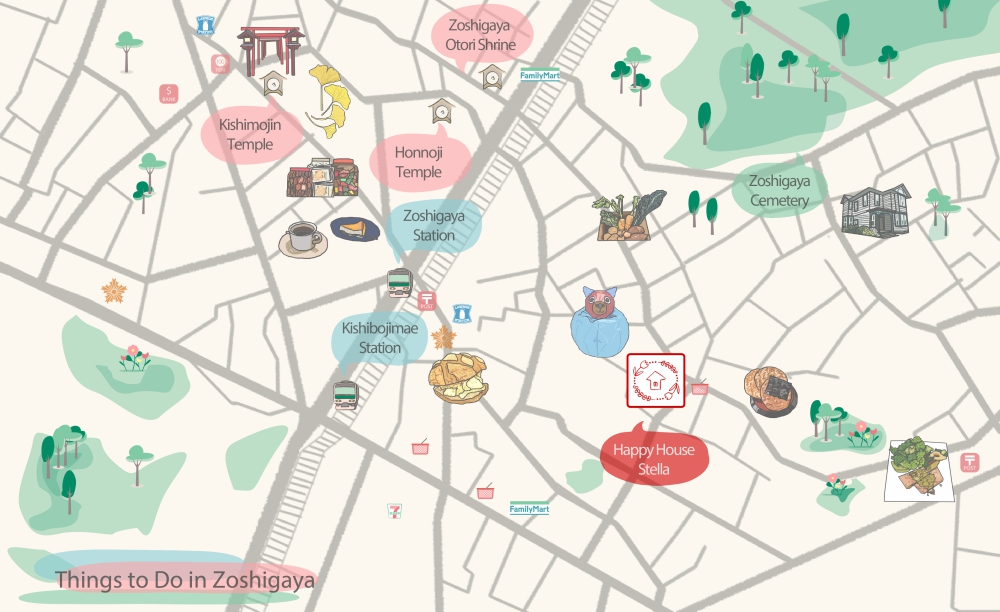 Zoshigaya station is just 16 minutes walking to Ikebukuro station, 10 minutes walking to Mejiro station and 17 minutes to Takadanobaba station.
Zoshigaya station:
–  Fukutoshin line
Kishibojimae station:
– Toden-Arakawa line
Mejiro station:
– JR Yamanote line
Some historical facts about Zoshigaya:
Tokyo government created 6 cemeteries in Tokyo and Zoshigaya cemetery is one of the six cemeteries, opened in 1874. A lot of famous novelists and artists have their grave stones in Zoshigaya. Including the novelist Natsume Soseki. Tokyo cemeteries are not that creepy, people stroll, jog, and picnic in those areas.
Kamikawaguchiya is the oldest candy store in Japan. It was established in 1781, and still children and adults like to buy some traditional and modern candies.
In Japan, there are certain pilgrim routes and Zoshigaya has one of the famous pilgrim routes. Basically you visit 7 different temples and shrines to worship 7 lucky gods with different purpose. Homyoji temple is established in 810 and is one of the seven religious spotsin Zoshigaya. During New Year, some of the locals like to visit all the seven, to collect 7 stamps, which give luck if you have all of them.
Interesting points about Zoshigaya:
Close to Kishimonji temple, there is a small street with large Zelkova trees and along the street there is an old style Japanese coffee shop, Kiazuma Coffee, with a bit of modern hipster twist. It is quite popular to have a good coffee there with a piece of cake or a small hotdog. Beside of this café, there are some crafts shops and some ateliers of young designers.
McCaled old Missionary House is an American style house lived by an American missionary John McCaleb. Currently it is a museum (free entry) and it is unique, since it has Western and Japanese architecture techniques.
Beside of Kiazuma Coffee, other cafes and bread store are recommended too. Zoshigaya is a good spot for daytime.
For knowing the area a bit better, a map with images:
To know more local places to visit in Zoshigaya, our reviews are interesting to read too. Ms. R. tells her story of the neighborhood:
Resident Interview Happy House Stella with Ms. R.
Follow us on social media  🌷
Insta: @tokyotulip
FB: @tuliprealestate.co.ltd