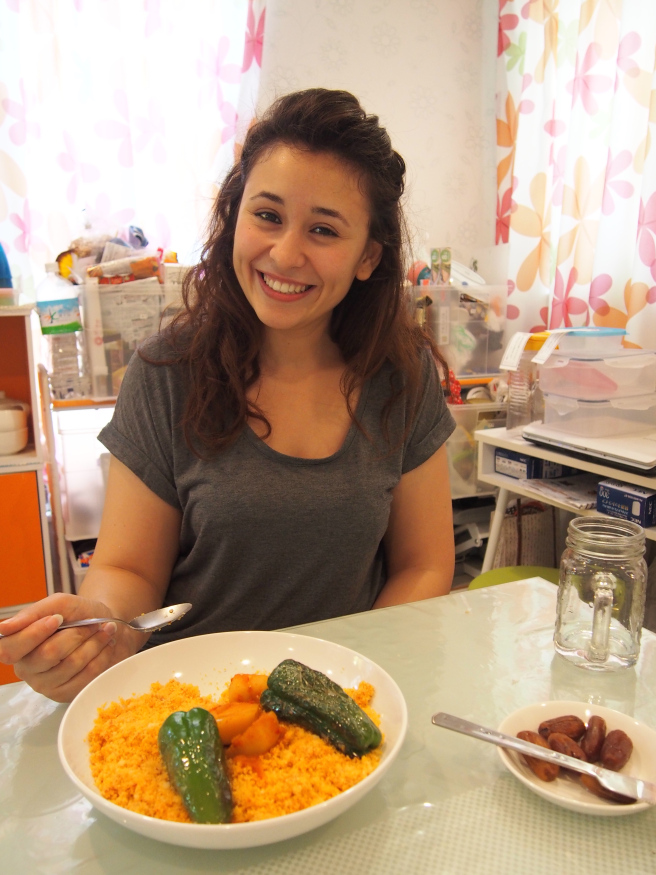 We know Sahar from last year while she was staying in Tokyo for 5 months and visited one of our shared houses. Unfortunately, Sahar couldn't move in at that time due to limited availability. But when she came back to Tokyo this year, she contacted us again and finally moved in Witt-style Clover. When our staff visited her the house for the interview, Sahar welcomed us with her beautiful homemade Tunisian cooking!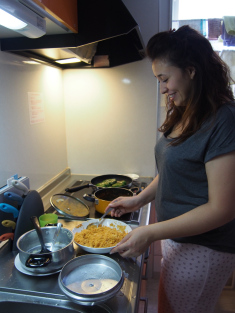 Sahar preparing Tunisian Couscous with fried vegetables
Hi Sahar, what interested you in our shared house, and have you had any experience with this kind of share-living before Witt-style Clover?
Last year I stayed in Tokyo for work for five months, and my company arranged a room in a shared house near the office for me. There was no Japanese people in the house. Most of my housemates were men and it was hard to keep the house clean, if you know what I mean. I was desperately looking for an all-female shared house, and I really liked Cozy Village Jasmine when I saw it. It didn't work out, but when I got another work contract in Tokyo this year, I decided right away to email Tulip.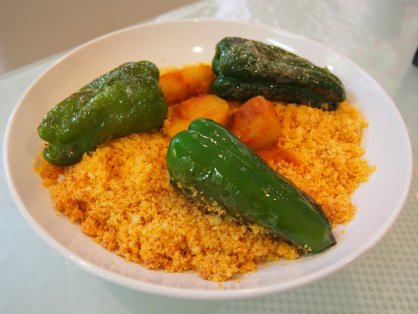 What is your favourite thing about living in Witt-style Clover?
I like that the house and the rooms are spacious, that common areas are always clean, and most importantly it's all women. Most of my housemates are Japanese and though they are not fluent in English, they always try to explain things to me in English. I want to learn to speak Japanese with them too.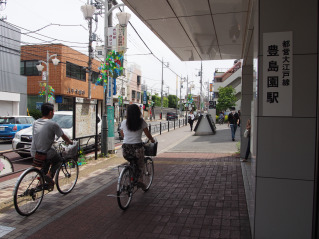 Surrounding areas of Witt-style Clover and Toshimaen theme park
How would you describe the surrounding area you live in? Do you have any favourite spots?
I first picked Witt-style Clover because my company was located in Nerima, but they recently moved to Roppongi. It's quite a distance, but it's still very easy to commute to work from here with Toei Oedo line. I can get there in 30 minutes. Though Nerima is a bit out of town, the trains are so well-connected. I like all the parks around here, especially the small Toshima-en theme park where you can see many kindergarten kids. It's usually a quiet hood, but it's also cozy and lively with all the children.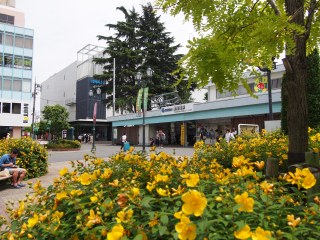 What are your favourite things to do in Tokyo?
On weekdays I usually work until late and come straight home after work, but if I'm not tired during the weekend, I like taking the train to Shinjuku for shopping or just meeting up with my friends. I also like to hang out in the park, or attending Matsuri (festivals). Today, I'm going to a Matsuri in Kamakura with a friend. In summer, I particularly love watching fireworks and trekking. I have hiked Takao Mountain twice.
 Has living in a shared space helped or changed you in any way?
Before I came to Japan, I was always living with my family. At my parents' house, I can leave dirty dishes in the sink until I have time to clean them later. But in Tulip's shared house, I need to follow the rules and clean everything right away. I suppose I have become more mature and responsible. I have also learned how to better communicate with and interact with other people in the same house. Oh I learned how to separate the trash too! You guys are quite strict about it! In my hometown we don't do this at all.
 Have you had any challenges in the house? And what did you do to overcome or resolve those problems?
On my first or second week someone used a hairdryer at 4 am and the noise woke me up. That morning I emailed your office to complain. Your staff said it was against the house rules, and warned my housemate about it. You guys have so many house rules, but they keep things in order. I feel very much at home here. Then there was this one time that I got accidentally locked out of my bedroom at night. My Japanese housemate who has a bicycle, kindly biked to your office to pick up a spare key for me!
Do you have any other plan in the future while you are in Tokyo?
My work visa here lasts for three years, and if things keep going well, I would really like to stay in Tokyo even longer! If I get a long holiday, I want to visit Hokkaido and Okinawa, and also Sendai, to experience the devastated areas. Last year, I went to Hiroshima and Kansai.
Is there anything else you would like to share with our readers about your experience in your shared house?
For us Muslim women, we have the impression that it's going to be hard living in Japan. We have many restrictions when it comes to eating and drinking, for example. But it's actually not too bad. It's not so hard to get by once you are used to things here. So I'd say "just come to Japan!"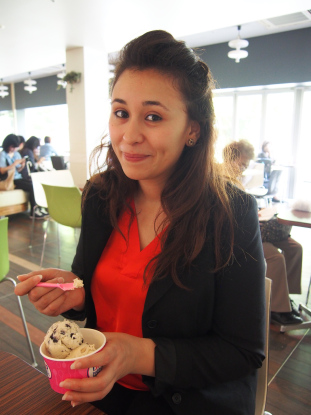 Ice-cream at the IMAX theatre close to the house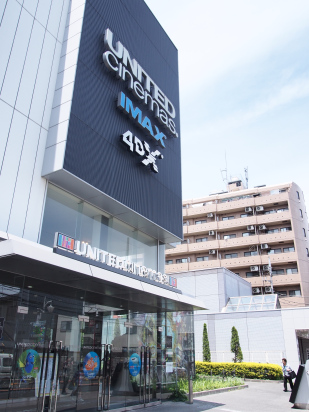 Check our share houses:
https://tulip-e.com/en/
Follow us on social media  🌷
Insta: @tokyotulip
FB: @tuliprealestate.co.ltd