Our sharehouse Apricot Terrace is in Sugamo. Sugamo is a slice of pure, classic Tokyo, served up at your grandparents' house because you told them your mum hasn't fed you yet.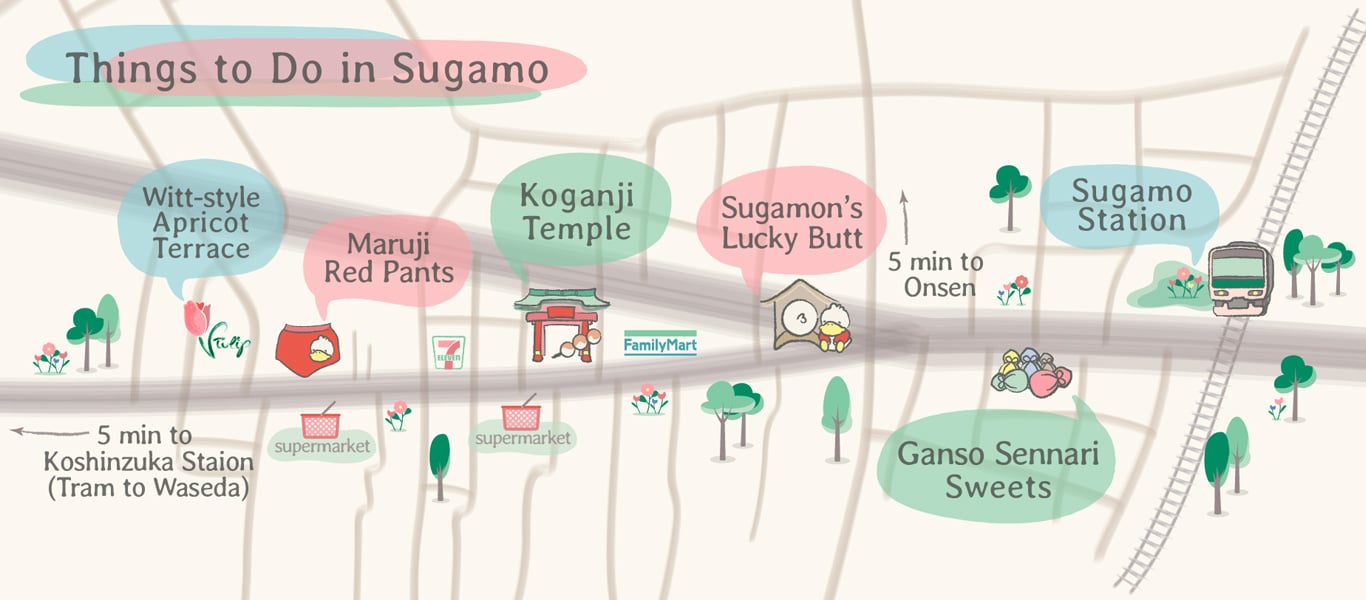 Sugamo is known locally as 'Granny's Harajuku' and it's easy to see why. Geriatrics visit Jizo Dori in their hordes to get the best picks of traditional Japanese sweets, premium matcha tea and old-timey fashions.
But this grandma's paradise holds plenty of attractions for any ages. Especially visitors who want to see a more old fashioned side of Tokyo. These are our favourites.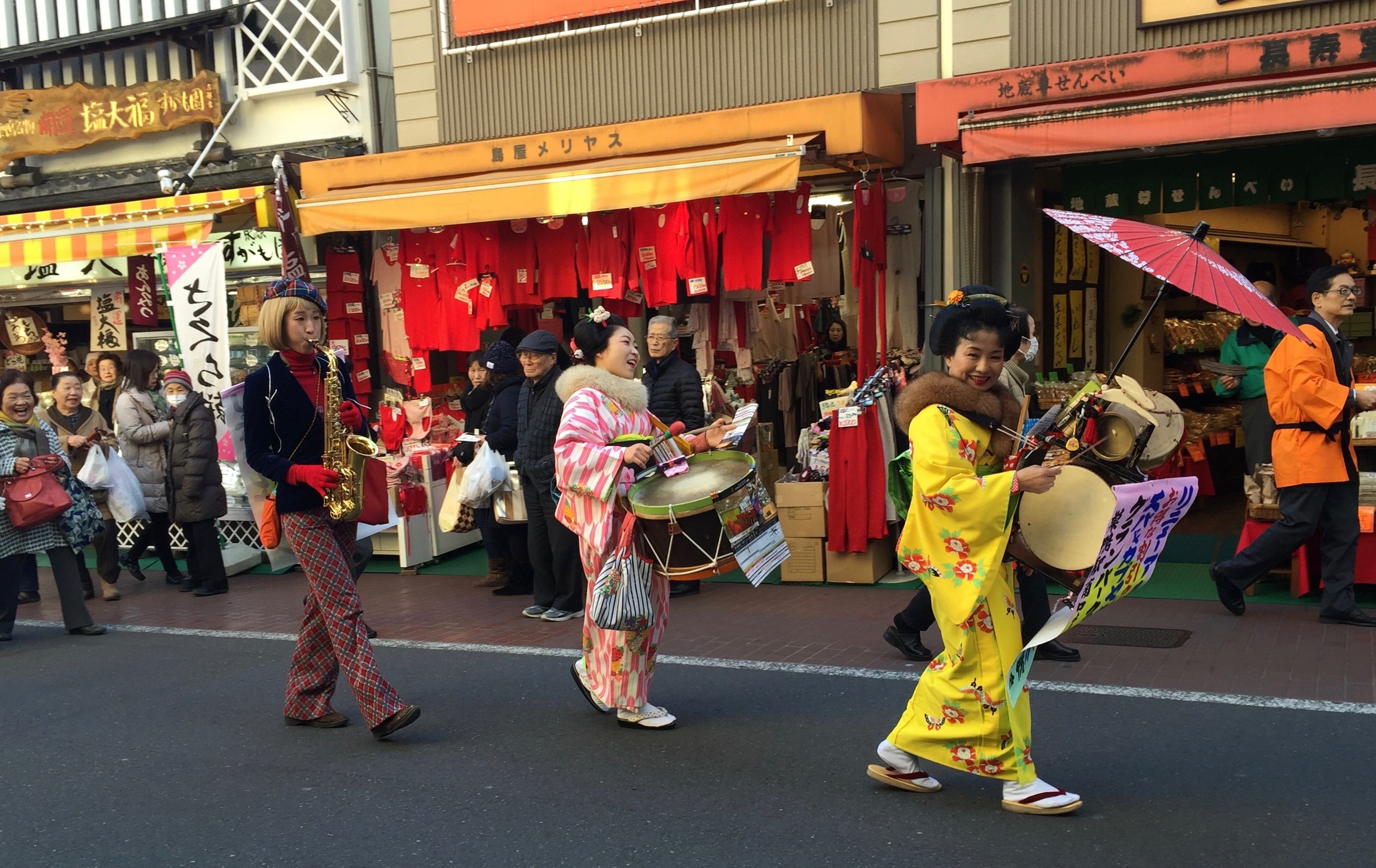 (link:http://japan-local-guide.com/ja/sugamo_a_paradise_for_tourists_who_want_to_take_a_look_at_old_japan/)
Obligatory Cute Mascot Sugamon
The mascot of Sugamo is a very round, white duck called Sugamon and he is adorable. A replica of his butt is stationed at the entrance to Jizo Dori, which can be stroked for a boost of luck in love. His schedule is written only in Japanese, but you can be sure he'll make an appearance at all Sugamo's festivals and events. His bum also looks like the shio daifuku that Sugamo is famous for. Mochi filled with red bean paste and flavoured with salt to counteract the sweetness. http://sugamon.jp/
Maruji Red Pants
You may notice an abundance of bright red panties. Not so much Sugamo's saucy underbelly, rather these underwear are believed to grant you good health if you wear them. Judging by the average age of their patrons, there may be something in it…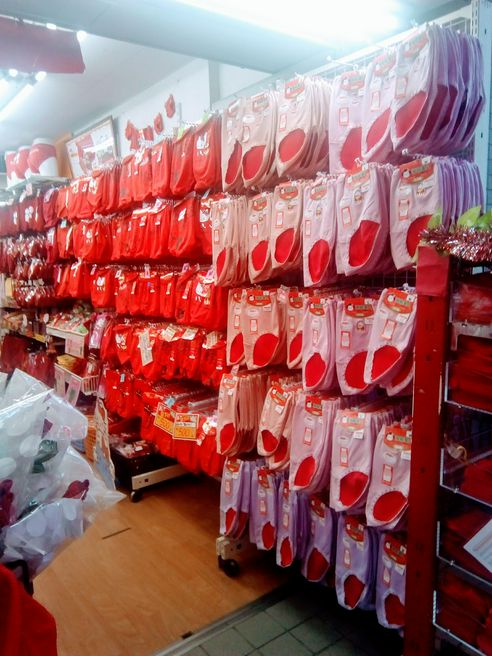 (link:https://matcha-jp.com/en/greatertokyo/place/ChIJSQZuOp2NGGAReuli9ZYo2Ic)
Koganji Temple (Togenuki Jizo Temple)
This temple is more commonly known by its nickname of Togenuki Jizo, meaning 'Jizo that draws out the thorn' in reference to a story about the Jizo deity that is enshrined there. A samurai drew 10,000 pictures of the deity in order to cure his wife's disease and after that the pictures were also used to cure a woman who had swallowed a thorn. Even now, this temple is very popular with people who want to cure their ailments.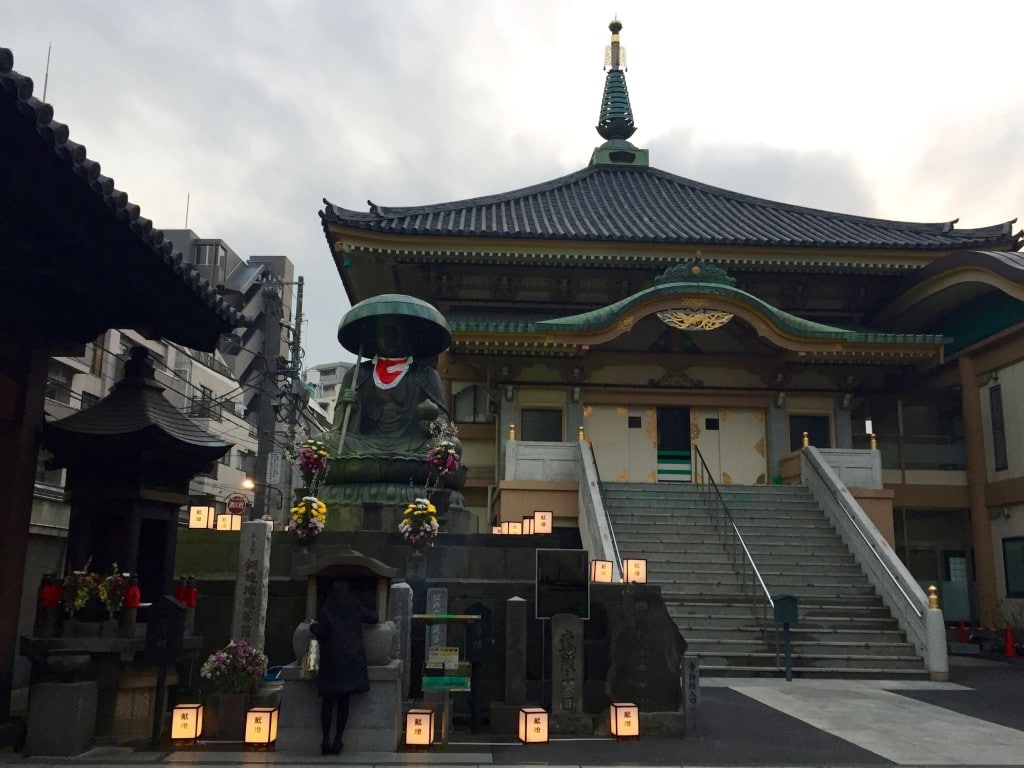 (link:http://japan-local-guide.com/ja/sugamo_a_paradise_for_tourists_who_want_to_take_a_look_at_old_japan/)
Ganso Sennari Monaka
Purveyors of traditional Japanese sweets, you can watch fresh dorayaki being made in front of your very eyes. They also offer cute, colourful monaka for only 100 yen each. A sweet traditionally served with tea, consisting of a jam filling (there's a choice of flavours such as red bean paste or plum) sandwiched between crisp mochi wafers. A perfect souvenir of your time in Sugamo!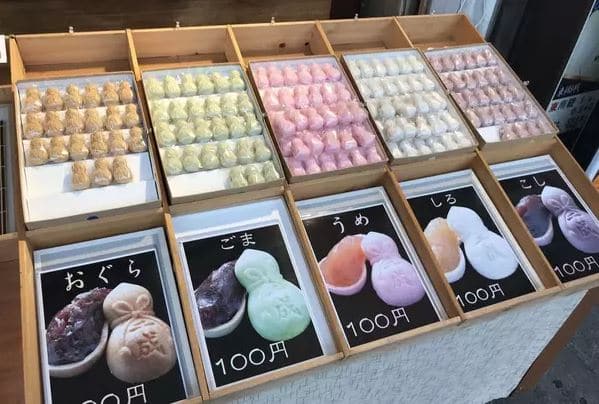 (link: https://haveagood.holiday/spots/290884)
Traditional Japanese Clothing
Although the vast majority of the clothes in Sugamo are geared towards a more mature market, if you want to buy some traditional Japanese wear there are bargains to be had. Old ladies know where to get value for their money. Yukata, which are light, summer kimonos can be found for unbelievably low prices.
If you want to know even more about Sugamo, read our previous blog about the market that takes place there!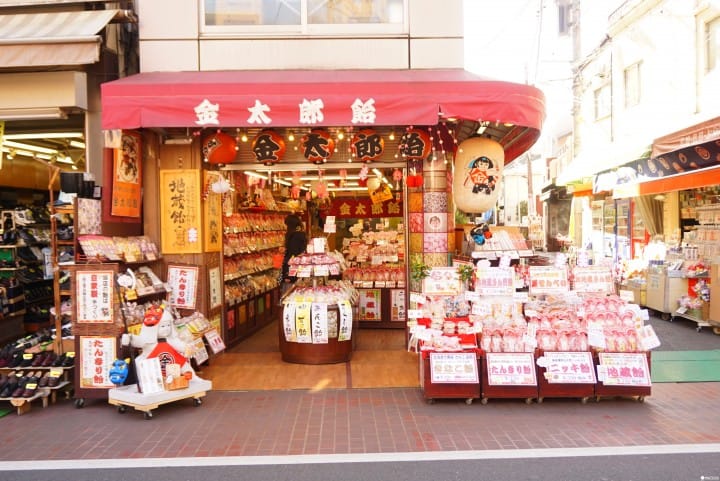 (link: https://matcha-jp.com/cn/3997)