The fall foliage season in Tokyo is expected to be full in color around the beginning November until mid of December. The weather is still warm, which makes it an ideal time to visit Japan's capital city.
Tokyo's famous trees—like gingko trees and Japanese maples (momiji)—are among the most popular fall foliage to see around town.  There are many ways to enjoy the fall foliage scenery in Tokyo other than seeing them at the side of the street. Since the timing can be very short to see them, why not try to visit places relatively away from the crowd?
Here are some suggestions for places that you can enjoy autumn leaves in Tokyo:
Koishikawa Korakuen Garden  小石川後楽園
Koishikawa Korakuen Garden is a garden located in Bunkyo, Tokyo. It is well known for its Autumn Leaves.
The garden was originally built for the Shogunate in 1722, but it was destroyed during the Great Earthquake of 1923. The current garden was reconstructed in 1929 by the City of Tokyo as a part of their efforts to rebuild the city after the earthquake.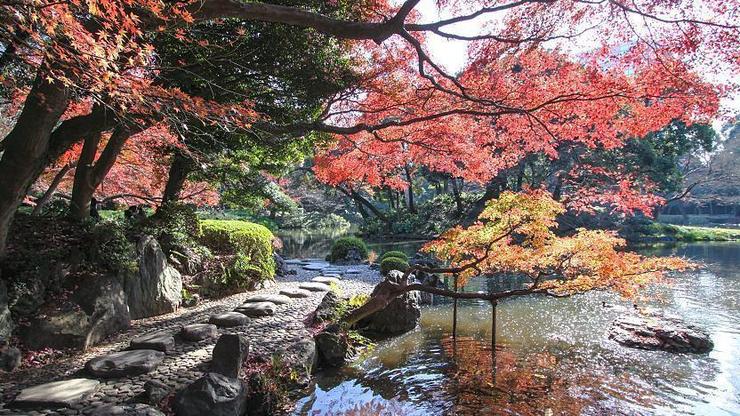 Image source: Japan-Guide
The garden has been designed with a classic Japanese style and it consists of several ponds and waterfalls, as well as trees that turn bright red in fall season. The main attraction at this park is its autumn leaves which are absolutely beautiful!
Address link: https://goo.gl/maps/h1R7HPckn5WrnZQJ8
When you think of Tokyo, the city may come to mind first—but there's a lot more to this vibrant metropolis than its skyscrapers.
Showa Kinen Park (昭和記念公園) is a park in the city of Tachikawa that spans over 160 hectares and boasts a variety of natural spaces, seasonal flowers, water features, museums and sports facilities. The park was opened in 1983 to commemorate the 50th anniversary of Emperor Showa's reign.
The park is spacious and lush and has multiple wide lawns where visitors can picnic and relax. There are also woodlands with walking trails, picturesque Japanese and Western style gardens, a large pond and various flower beds that sprawl out over some of the many fields and hills.
If you're looking for an escape from Tokyo's busy city life, this is the place for you!
English Guide: https://www.showakinen-koen.jp/guide-english/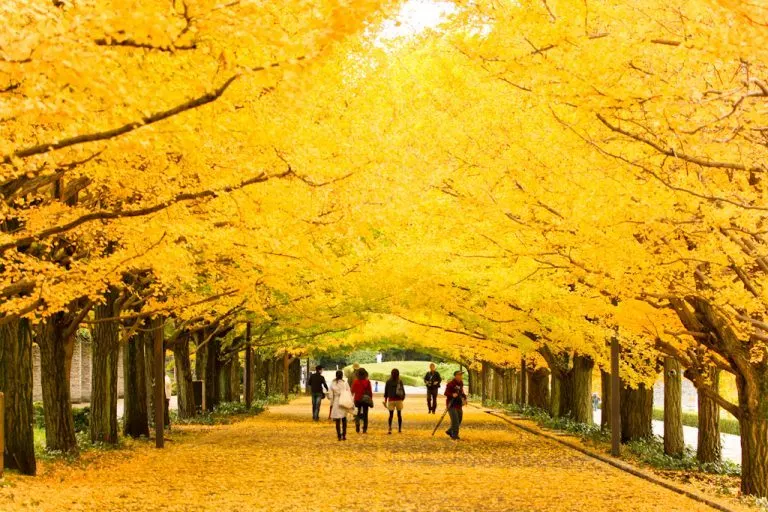 Image source: notesofnomads.com
Takaosan is a beautiful mountain that sits just outside of central Tokyo. It is a popular spot among locals and tourists alike, with many coming to see the autumn foliage and enjoy the quiet, natural beauty of its surrounding forests.
However, due to its proximity to central Tokyo, Takaosan can get very crowded on weekends. It is especially busy during the second half of November, when the mountain's scattered autumn colors cause it to become one of Tokyo's most popular koyo (autumn foliage) spots. Consequently, you are well advised to visit Takaosan during the week if you are looking for a break not only from the concrete but also the crowds of Tokyo.
Image source: Japan-Guide
 Rikugien Gardens is a strolling garden that's often called the "jewel" of Tokyo.
It was originally created in 1702 by a shogun confidante, who used this garden as a way to show off his wealth and power. It was later donated to the city by the founder of Mitsubishi, who used it as a second residence. In 1953, it was designated as an important cultural asset.
Nowadays, you can visit Rikugien for free—but you need to make reservations in advance.
English Guide website: https://www.tokyo-park.or.jp/teien/en/rikugien/outline.html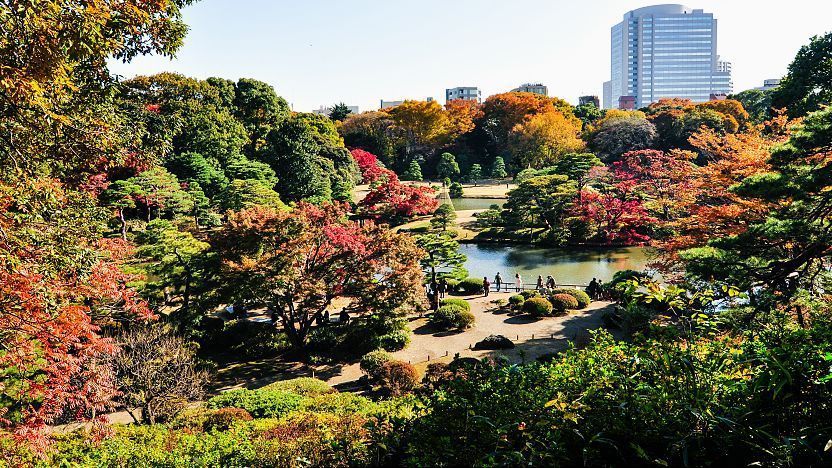 Image source: Japan-Guide
Follow us on social media  

Insta: @tokyotulip
FB: @tuliprealestate.co.ltd
Website:http://www.tulip-e.com/en