Spring is now upon us and cherry blossoms are in bloom! The Tulip Team have put our heads together to present you with the best sakura viewing spots next to each and every of our share houses. Below is a list of 14 parks and places with which you wonderful ladies and gents can refer to next time you're in town for the traditional Japanese cherry blossom viewing custom also known as hanami (花見). From lively, popular viewing spots such as Yoyogi Park in Shibuya, to serene hidden gems in the likes of Araiyakushi Park in Nakano, we're sure you'll find one that suits your fancy to admire the fleeting yet sensational wonder that is Japan's sakura!
1. Nakano Central Park 中野セントラルパーク | Nakano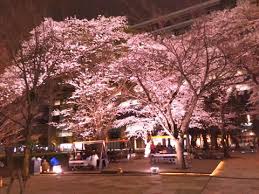 A brisk 12-min walk from Happy House Asian and an 18-min walk from Happy House Orange is Nakano Central Park, a dog-friendly open space lined with sakura trees, plenty of eateries (think cafes and shops), convenience stores, and, depending on the time of visit, an impressive, ever-changing collection of food trucks. Nakano Central Park is also the venue of the Cozy Culture Club's debut hanami picnic event! Bring your own bento and join us for a FREE afternoon of language and culture exchange fun. We'll be also grabbing freshly brewed Kirin beer at the foodtrucks nearby, so be sure to bring some change.
Interested? Sign up on Facebook or Meetup, we'd love to see you there!
Nakano Central Park 中野セントラルパーク
4 Chome 10-2 Nakano, Nakano-ku, Tokyo 164-0001
Nakano Station | FREE Admission
2. Araiyakushi Park 新井薬師公園 | Nakano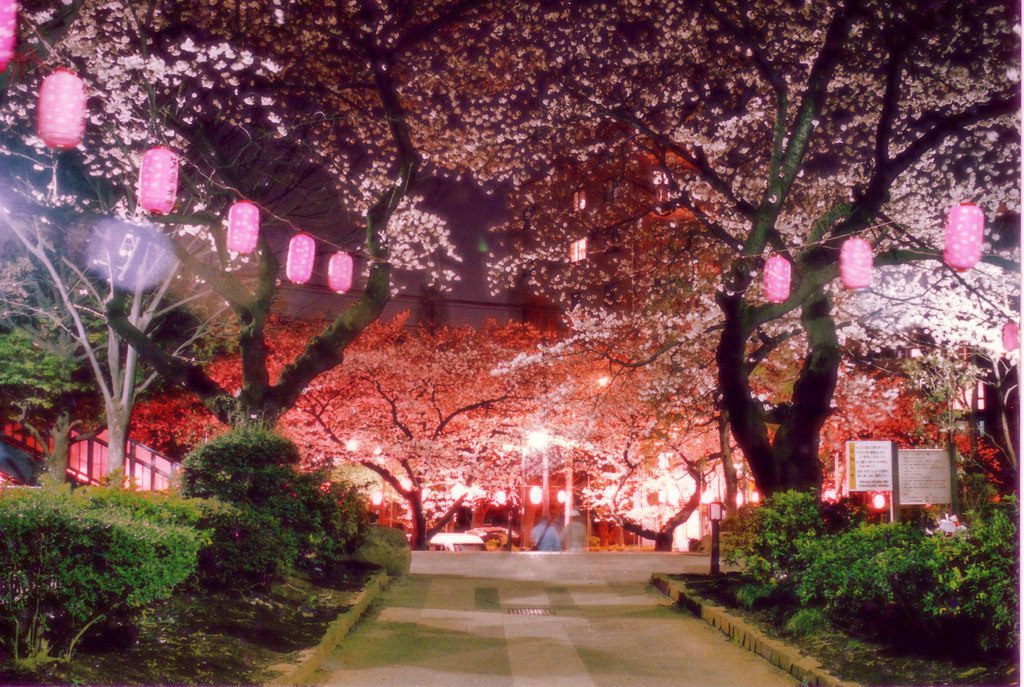 For a quiet, pleasant hanami party, take a 3-min stroll down from our Happy House Vitamin Color, Araiyakushi Park is home to 24 beautiful cherry blossom trees.  The park is teeming with greenery and features a relaxing Japanese-style koi pond swimming with goldfish and carp, the Arai Yakushi Otera Temple, and a brilliant spectacle of cherry blossom illuminations during hanami season.
Araiyakushi Park 新井薬師公園
5-4 Arai, Nakano-ku, Tokyo 165-0026
Araiyakushi-mae Station | FREE Admission
3. Tetsugakudo Park or Temple Garden of Philosophy 哲学堂公園 | Nakano
Walk 2-min from Cozy Village Jasmine or hop on the 中41 bus heading towards Nakano Station from Happy House Herb for a 10-min ride to a  beautiful part forest and part park scenery of ponds, river, and tall trees. Testsugakudo Park, while small-scale compared to the likes of Shinjuku Gyoen and Yoyogi, the park's 77 philosophy-inspired buildings, stonework, and pathways make for a lovely, serene afternoon stroll. Cherry blossom trees line the riverside leading to a cherry blossom circle perfect for hanami picnics. PS. Happy House Vitamin Color residents, you're in luck with options, the park is an 18-min walk from the sharehouse!
Tetsugakudo Park 哲学堂公園
1-34-34 Matsugaoka, Nakano-ku, Tokyo 165-0024
Araiyakushi-mae Station | FREE Admission
4. Yoyogi Park 代々木公園 | Shibuya
While Yoyogi Park isn't the most picturesque of parks in terms of landscape design, its wide open space ensures you won't be fighting for inches of grass on which to layout your picnic blanket. Plus it ensures you a view of the cherry blossoms no matter where you're seated! Psst, Witt-style Yoyogi and Witt-style Jingu residents, the park is a mere 5-10min walk from the sharehouse – leaving you ladies with no excuse NOT to go out on a hanami excursion.
Yoyogi Park 代々木公園
2-1 Yoyogikamizonocho, Shibuya-ku, Tokyo 151-0052
Harajuku / Yoyogi-Koen / Yoyogi-Hachiman / Sangubashi / Meiji-Jingumae Station Station | FREE Admission
5. Setagaya Park 世田谷公園 | Setagaya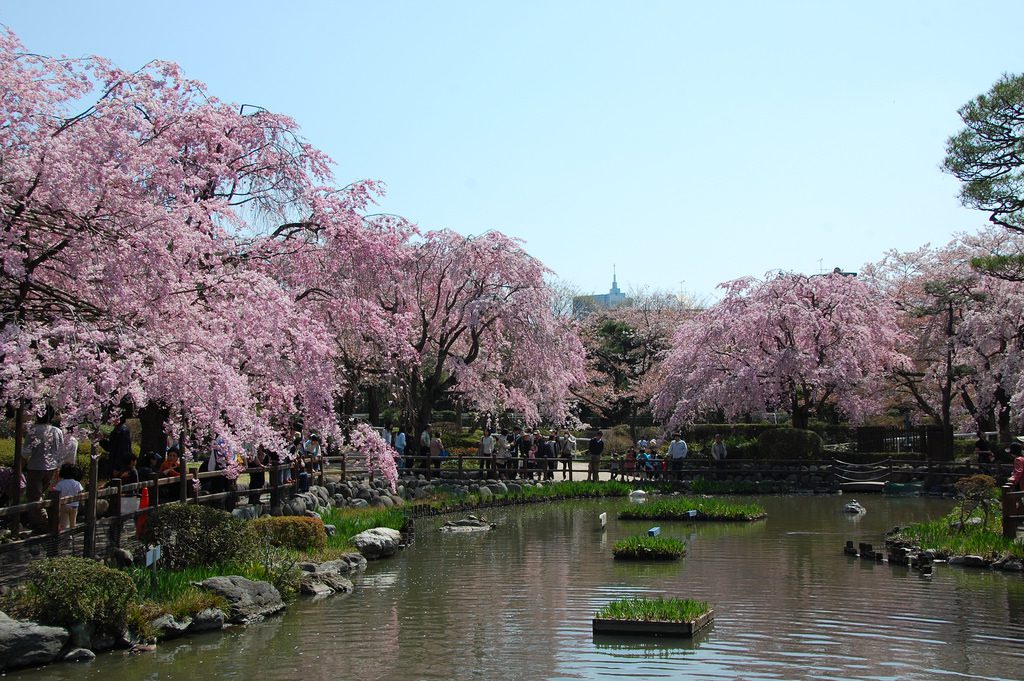 Despite mainly catering to horse-riding children (yes, there are actual horses meandering on site!), Setagaya Park is home to several beautiful gardens, lovely grassy knolls,  a center piece water fountain, and, of course, plenty of cherry blossom trees for hanami. If you are lucky, you might even stumble on an occassional flea market. Psst, this gem of a park is lcoated only a mere 10-min walk from our Witt-style Mishuku sharehouse!
Setagaya Park 世田谷公園
15-27 Ikejiri, Setagaya-ku, Tokyo 154-0001
Sangen-jaya / Ikejiri-ohashi Station | FREE Admission
6. Wadabori Park 和田堀公園 | Suginami
Slightly off the beaten path is the quiet, lush greenery of Wadabori Park, a natural enclave from the city's hustle and bustle. Happy House Kamikitazawa residents, take a perfectly doable 15-20min breezy afternoon bike ride from the share house and lose yourself in the leafy shades, and unwind with a stress-free spring stroll down the path lined with cherry blossom trees along the Zenpukuji River. Best of all, the park features 10 BBQ facilities (reservation with the Suginami Ward Office required) and the athletic fields are free for all on the 1st Sunday and 3rd Saturday of the month!
Wadabori Park 和田堀公園
2-23 Omiya, Suginami-ku, Tokyo 168-0061
Nishi-Eifuku Station | FREE Admission
7. Toshimaen Amusement Park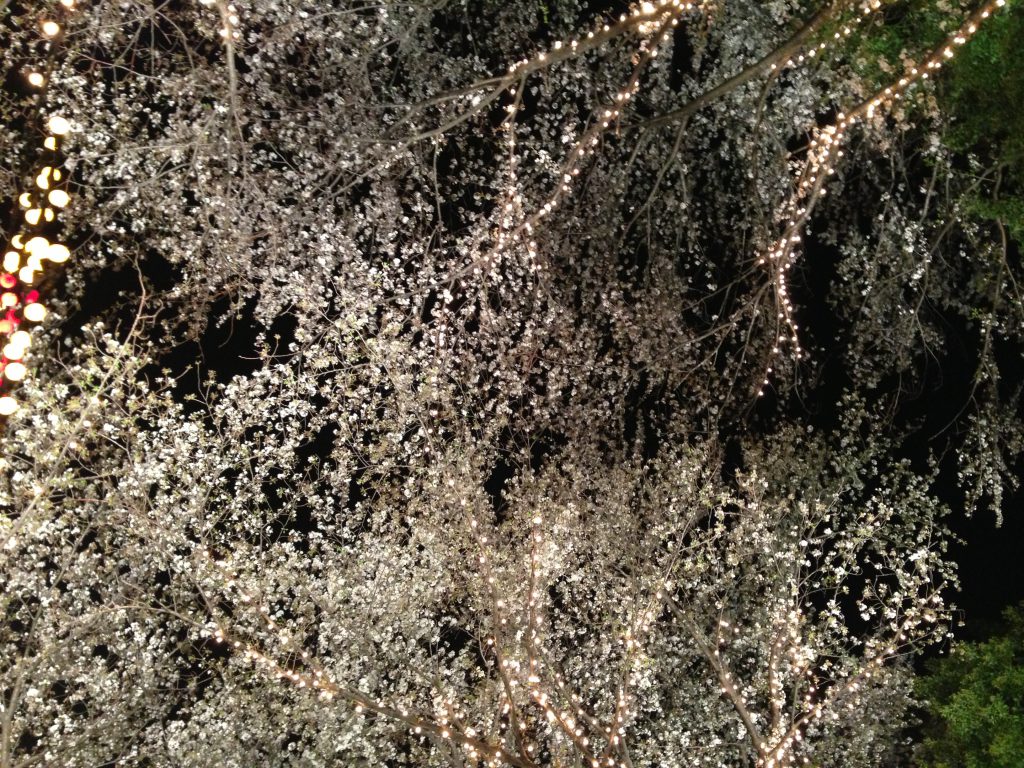 10-min by foot from our Witt-style CloveR is Toshimaen. A lively amuseument and water park throughout the year, the charming old-fashioned park is magically lit up after dark during sakura season. The park's special "Sakura Nights" entry program provides unlimited access to designated rides and attractions while admiring the illluminations on over 500 cherry blossom trees!
Toshimaen Amuseument Park 豊島園
3-25-1 Koyama, Nerima, Tokyo 176-0022
Toshimaen Station | Sakura Night admissions beginning at 500 yen
8. Rikugen Gardens 六義園 | Bunkyo
https://www.instagram.com/p/BgRjrfbFLsw/?hl=en
For more sakura illuminations, head over to the exquisite Japanese-style Rikugien Gardens at Sugamo Station near our Witt-style Apricot Terrace. After sunset, the gorgeous Waka poetry-themed park is  transformed into a brilliant fairlyland of dazzling cherry blossom illuminations that are well-worth the entrance fee. PS. Word of advise, book online and get there early to make it in ahead of the line of lovebirds! Oh, and don't forget to bring your camera!
Rikugien Gardens 六義園
6-16-3 Honkomagome, Bunkyo-ku, Tokyo 113-0021
Sugamo Station | 300 yen
9. Edogawa Park 江戸川公園 | Bunkyo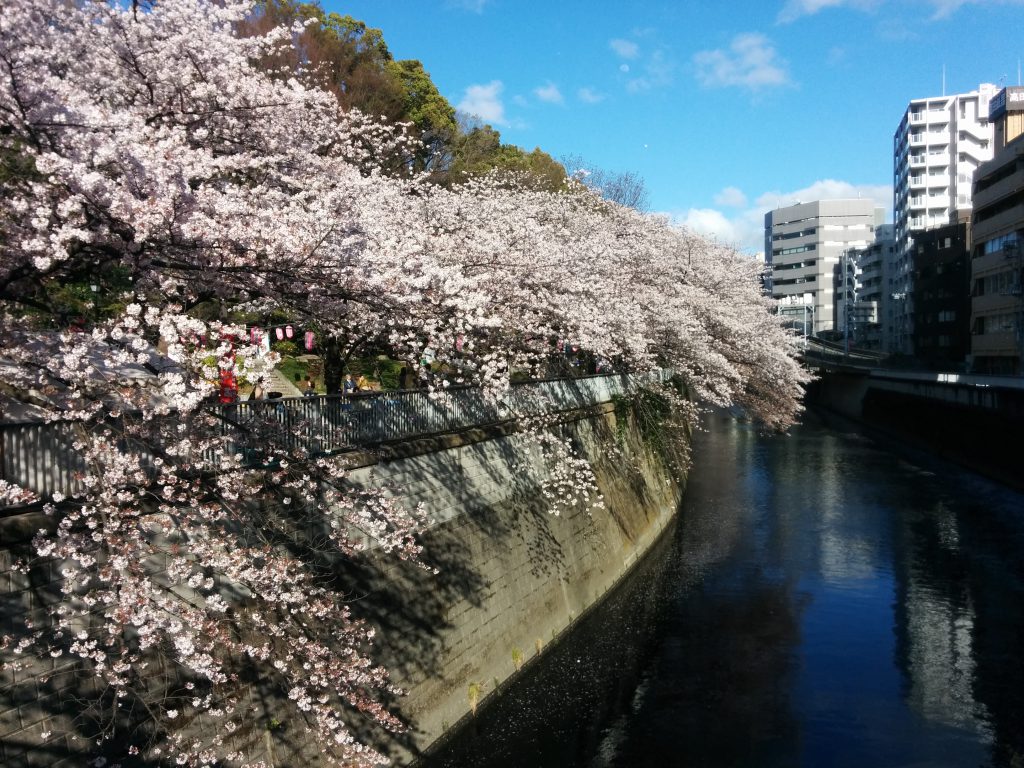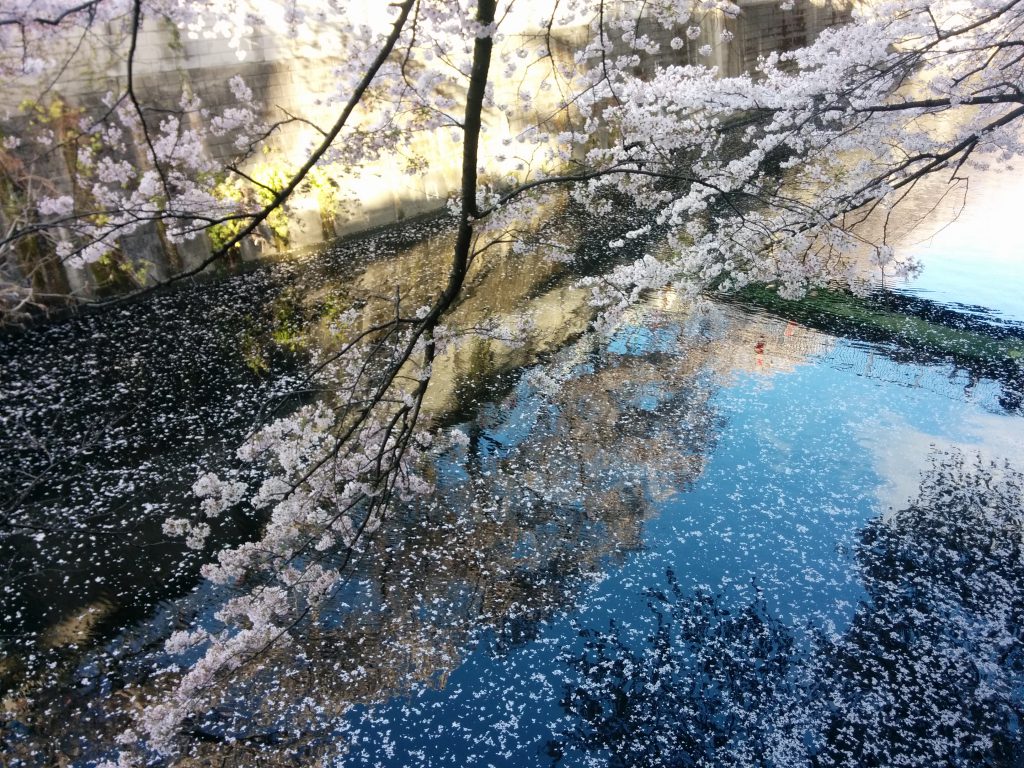 Formed in the Edo era, the Kanda River runs from Inkoashira Park in Mitaka Ward, joining the Sumida River underneath the Ryogoku Bridge. Numerous cherry blossom trees bloom along the riverside, however, one of the best spots to view it is at this particular point inside Edogawa Park, titled 神田川桜並木 on Google Maps, which is a 9-min walk from Happy House Kagurazaka and a 18-min walk from Happy House Stella. The river itself is only a 10-min walk from Happy House Stella, and nearby parks include as Kansen-en Park, Higo-Hosokawa Garden, and the Chinzanso Garden.
神田川桜並木
2-1 Sekiguchi, Bunkyo, Tokyo 112-0014
Edogawa Park 江戸川公園
2-2-1 Sekiguchi, Bunkyo-ku, Tokyo 112-8555
Edogawabashi / Waseda Station | FREE Admission
10. Sotobori Park 外濠公園 | Chiyoda
For yet another river-side hanami picnic option, why not check out Sotobori Park, with a promenade that connects Ichigaya and Iidabashi Station. Chilli Pepper and Cream residents! Make a 5-min walk down to the park to enjoy a relaxing morning or afternoon stroll (whichever suits your fancy!) underneath a canopy of white cherry blossom petals while listening to soft river sounds!
Sotobori Park 外濠公園
2-9 Gobancho, Chiyoda, Tokyo 102-0071
Iidabashi Station | FREE Admission
11. Meguro River Park 目黒川船入場 | Meguro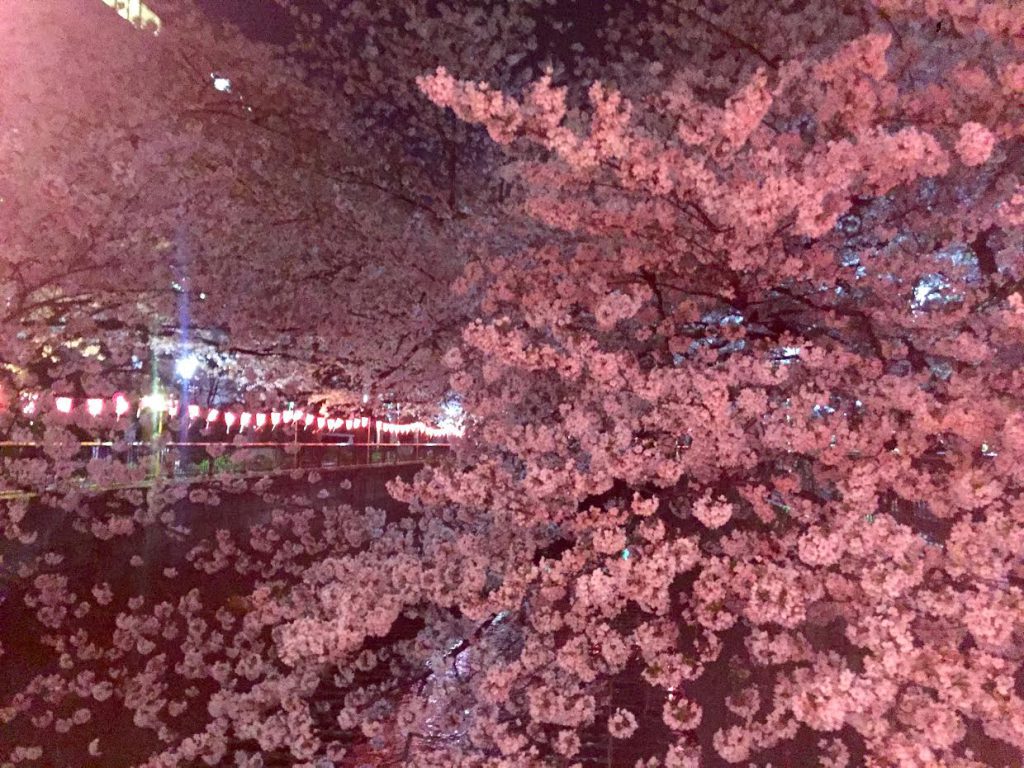 Constantly featuring in Tokyo's top 10 hanami viewing lists, Meguro River Park is THE place to go for a feel of the much-talked about cherry blossom rain and all-around hanami atmosphere. Numerous small, delectable eateries lining both riversides present the perfect opportunity for a quick bite (or two!). We highly recommend getting there around dusk, grabbing something nice to drink (ala our staff did in the pic above!), and enjoying the changing view from light to night. Our Witt-style Nakameguro residents are in luck, the hanami hot spot is just a 17-min bus trip or a 15-min bike ride from the house!
Meguro River Park 目黒川船入場
1-11-18 Nakameguro, Meguro-ku, Tokyo 153-0061
Nakameguro Station | FREE Admission
12. Roka Koshun-en Park 蘆花恒春園 | Setagaya
The hanami scene at Roka Koshun-en Park is hands down the most floral site on our list, with a fusion of colors from both pink sakura and yellow rapeseed blossoms! Former residence of famed writer and philosopher Roka Tokutomi, actual name Kenjiro Tokutomi, the historic park grounds contain the author's prior place of abode, a garden and bamboo forest, a shrine, and an abundance of forest-like flora. OKURA HOUSE ladies, we promise you it's absolutely worth the 15-min bike ride!
Roka Koshun-en Park 蘆花恒春園
1-20-1 Kasuya, Setagaya-ku, Tokyo 157-0063
Hachimanyama Station | FREE Admission
13. Shiba Park 芝公園 | Minato
Take a break from Roppongi and enjoy the cherry blossoms with a view of the city's signature Tokyo Tower at Shiba Park. While not the most aesthetic of parks, its spacious grass fields is excellent for a spot of afternoon napping or for unrolling a substantial picnic spread. The park is also adjacent to the impressive Zojoji Temple, making it a perfect blend of modern, history, and nature sights – all this just a 15 to 20-min walk from our Witt-style Roppongi!
Shiba Park 芝公園
4-8 Shibakoen, Minato-ku, Tokyo 105-0011
Shibakoen Station | FREE Admission
14. Johoku Chuo Park 都立城北中央公園 | Nerima
Measuring 260,000 square meters, Johoku Central Park is one of the city's largest with plenty of green, open space for spreading out picnic baskets and blankets. With its vast grassy fields, a huge athletic field, and plenty of tall trees, our Happy House mint residents only need make a 11-min walk to reach the perfect spot to do a bit of jogging or an early morning outdoor yoga session! PS. The park also has a special area designated for housing Moro relics dating back to the stone ages to satisfy your inner history buff.
Johoku Chuo Park 都立城北中央公園
1-3-1 Hikawadai, Nerima-ku, Tokyo 179-0084
Hikawadai / Kami-Itabashi Station| FREE Admission
Follow us on social media!  🌷
Insta: @tokyotulip
FB: @tuliprealestate.co.ltd
Tulip HP www.tulip-e.com
By: Lydia Hon